HAWAII SURF IS PROUD TO KEEP OUR RATES LOW FOR OUR HAWAII PLAYERS
Cost to be a member of Hawaii Surf Soccer Club is $500.00 which includes their HYSA Players pass + $50/month.  Additional Cost is $ 218.00 for Youth uniform kit, $230 for Adult uniform kit; and is yours to keep.  The kit includes 2 game jerseys , 1 game shorts , 1 practice jersey , 1 practice shorts , 2 pairs of socks.  Our uniforms are Nike and ordered through Soccer.com.
Also a big benefit to our High School players is that when you're in High School Season you don't pay our $ 50.00 monthly training fees.  Some clubs charge you and that is something that they don't tell you.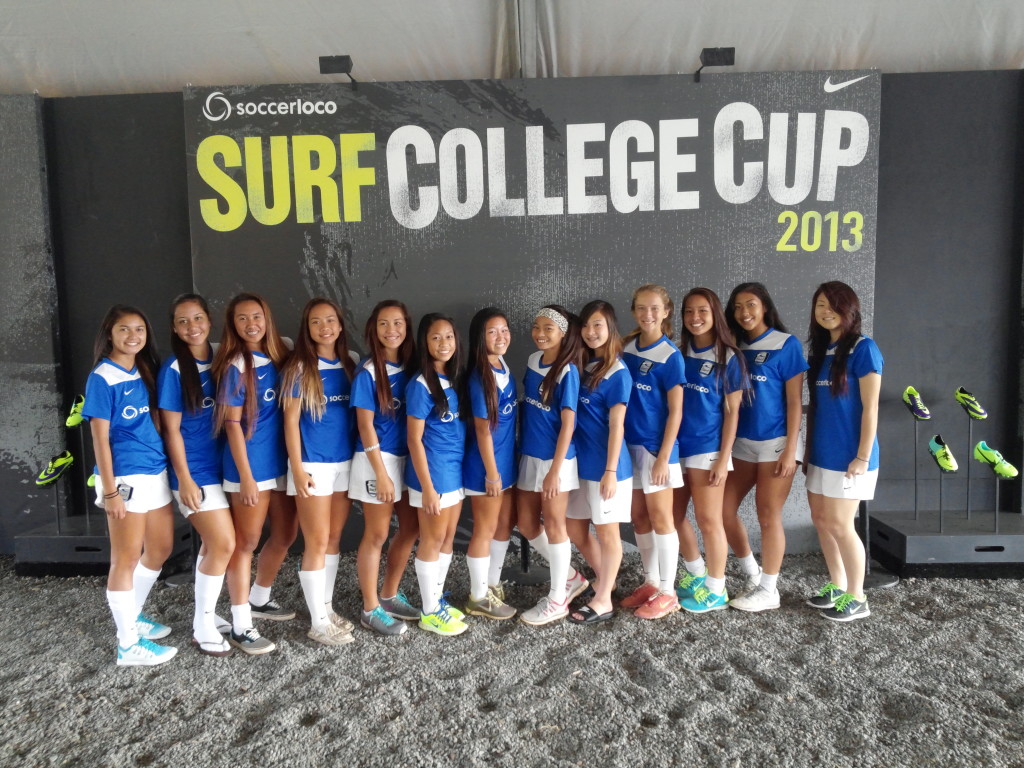 We offer two different quality pricing for our younger age group and older age group players due to our High School Players
Because of their size, the volume of the business they do and being a Nike Premiere Club, we are in a great situation with San Diego Surf Club.  They are able to get us these unbelievable discounts so we can pass down these great savings we get directly to our members.  Most clubs typically generate additional money for the club from their uniform costs in addition to their club fees, but  we wanted to take care of our members by helping them save money whenever possible.  We are very proud to be a part of a prestigious soccer club like San Diego Surf Soccer Club as they really take great care of our club, coaches and players and allow our members to enjoy these types of great benefits because of our affiliation with them. 
Other cost associated to be a member of HYSA and to play in Oahu League.  Every single player are required to pay this fee.   
$ ( Included ) in your membership fees.  50.00 HYSA Membership fee

 -

 Required to play in Oahu League

Seasonal League Fees:  Cost varies depending on the amount of players on the team.   We divide the overall league fee by the amount of players rostered on each team

.  

This is something

 every team must pay to play. 

Tournament Fees:  If your team enters a tournament the players on each team will split the cost.

 Once again

every team entering a tournament must pay this fee.




Some teams may enter every tournament possible, but at

 Surf Hawaii we are very selective on the tournaments we enter.  This is because we want to maximize on the quality of the tournaments we enter and not to incur unnecessary expenses for our members

.

 These are the typical fixed costs every club and their members must pay in order to play.

At Surf Hawaii We Keep Things Simple and Transparent
All clubs have the same costs and fees they ALL must pay:
HYSA membership fee to play in  Oahu League

Oahu League Fee

US Club Soccer membership Fee to play in MISO Jr. League

MISO Jr. League Fee

Tournament Fee
They may word it differently or the fees above may already be included in their membership fees but we all must pay the same costs.  Some clubs may not be as transparent, so look at the total cost after everything is paid for INCLUDING the uniform costs.  They may even charge higher fees and higher cost on other items such as uniforms to it's general membership in order to subsidize for those members who may not otherwise be able to afford to pay the club fees.  If this should be the case, you could possibly be paying for someone else's child!  These things do happen so having the TRANSPARENCY like the way we do is very important as you would want to know exactly what and who you are paying for.
Some of the club's Uniform Cost alone can be very high and can even be higher than the entire yearly cost of our Surf Hawaii Players.   

Other Clubs Membership fees alone can also be more then our entire Surf Hawaii Yearly Fees !  We believe we have Top Quality training along with Top Quality Nike Uniforms and Gear.

Training Fees !  If you are getting great training and you are happy, then the cost should not matter.  We believe our training fees are based on quality and value.  
Items to Look at and Compare:  What is your TOTAL COST to Play Soccer?
The Uniforms, Practice Gears and other Costs not included in your club fees.  

Do your still need to pay even if your child is hurt, playing in High School or on a Vacation?  (If it is ALL inclusive Club Fees, more than likely you may be paying for it)

Membership Fees, League Fees and Tournament Fees

Club Fees - If you are paying $ 200, $ 450  or even $ 1200 or more  - what does that include ?  Add everything else that may not be included with this fee.  What is your total cost now?     
We are very proud of what Surf Hawaii Soccer Club has to offer and the Quality we provide to our members.  These are the reasons we are growing the right way and moving in the right direction !